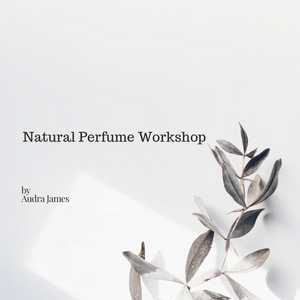 Natural Perfume Workshop for 1
Regular price $198.00 Sale
Natural Perfume Workshop
A natural perfume workshop by Aromatherapist Audra James  
This 'one-on-one' workshop will teach you the basics of natural perfumery and together we'll create your own signature scent to take home. 
Cost includes:
A 10ml Bespoke Natural Perfume 
The Natural Perfume Workbook by Audra James 
A Glass of champagne or mineral water 
This workshop is for anyone who is interested in: 
-  the art of natural perfumery 
-  creating their own bespoke signature scent 
-  studying natural perfume

-  purchasing a very unique gift   
The workshop takes place at Kangaroo Point, Brisbane. Weekends and some evening workshops are available. 
- Natural Perfume Workshop for 1   (2 hours) - $295
Once purchased, you will be contacted within 24 hours to see if you would like a Gift Card for this workshop along with time availability.  

*Please note that the next available date for this workshop is February 2024 
Please email audrajames@gmail.com with any enquiries