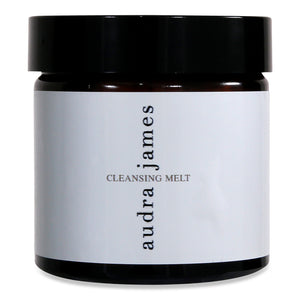 CLEANSING MELT
Regular price $43.00 Sale
WHAT IT DOES:
Cleanse. Exfoliate. Nourish. Rejuvenate.
This multi purpose balm can be used as a cleanser for skin or a nourishing mask and gentle exfoliant. Use twice weekly for a deep cleansing treatment or daily as a cleanser for dry skin. This is a 3 in one product that works as a deep skin cleanser, gentle exfoliant and treatment mask.
INGREDIENTS;
Grapeseed Oil, Organic Sunflower Oil, Organic Jojoba, Tocopherol (Vitamin e) Natural Beeswax. Essential Oils of Neroli (Orange Blossom), White Grapefruit and Lavender.
DIRECTIONS;
Apply a small amount to the face, massage in to dissolve any make up – remove by running the cloth provided under warm to hot water and rinse out. Hold over face for a count of 5 and then use the cloth to remove the makeup. Repeat this step to cleanse skin thoroughly and then use a final cool rinse of the cloth to finish. To use as a treatment mask, apply a thicker layer, leave for 10 minutes then remove in the same way
55g