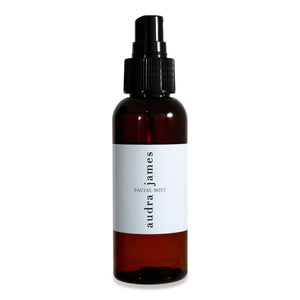 FACIAL MIST
Regular price $35.00 Sale
WHAT IT DOES::
The second step in treating your skin Is to mist with a non drying natural floral mist. This helps to refresh and re-balance skin and also ensures that any products applied after this step work more effectively. Rose Geranium and Lavender Essential Oils were included in this facial mist for their skin regenerative properties and also for their ability to balance and relax emotions. This is a perfect treatment for all skin types, including super sensitive, dry, reactive, stressed and congested skin. 
RITUAL:
Mist onto skin after cleansing to refresh and re-balance, or throughout the day to hydrate (especially beneficial in air conditioning or travel) or spray onto skin after applying makeup to help set. refreshing, hydrating and calming treatment. Instantly feel calm and relaxed throughout the day by misting onto face (eyes closed) and breathe the aroma deeply several times
Ingredients: Pure Organic Rosewater, Polysorbate 20, Sodium Benzoate, Gluconolactone, Rose Geranium Essential Oil, French Lavender Essential Oil. 
100ml