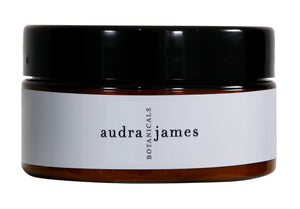 BRIGHTENING MASK
Regular price $39.00 Sale
WHAT IT DOES:
Skin softening and brightening. This treatment mask can be used to help cleanse skin deeply without drying skin out. It also has a gentle exfoliating effect. An infusion of Organic French Pink Clay and White Clay has a brightening, toning and glowing effect on skin. Suitable for all skin types including sensitive.  This is a powdered mask that is activated when mixed with water or the Audra James Facial Mist and can be further customised with and Audra James Skin Serum for your skin type.
INGREDIENTS:
White Kaolin Clay and French Pink Clay with Organic Rose Powder
RITUAL:
Mix approximately 1 tsp with a small amount of water (enough to form a paste) or with Audra James Rose Geranium Facial Mist. Apply to face for approximately 5-8 minutes. To create a bespoke treatment mask add 1 drop of your Audra James Serum to the paste before applying to face (avoid eye area). Remove once the mask starts to dry with a warm facecloth, finishing with a cool compress.
As an exfoliant mix a small amount with Audra James Skin Cleansing System or Cleansing Melt when using. This type of exfoliation is beneficial twice weekly
60g