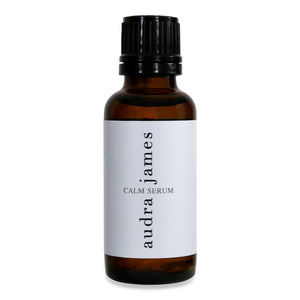 CALM SERUM
Regular price $43.00 Sale
WHAT IT DOES;
Based on the Audra James Skin Method, Calm Serum is the perfect daily treatment for skin that is sensitive, stressed or reactive. Using a blend of nourishing, calming and soothing pure plant oils, this formula will restore, calm and repair skin that is in need of some special care. Formulated without essential oils, Calm Serum is also recommended for use during pregnancy. 
INGREDIENTS:
Organic Jojoba, Organic Sweet Almond, Camellia Oil, Evening Primrose, Pumpkin Seed Oil, Tocopherol (Vitamin E).
RITUAL;
After cleansing with an Audra James Cleanser apply approximately 5 drops of Calm Serum onto the face and neck area using a gentle pressing motion. Use twice daily.
30ml