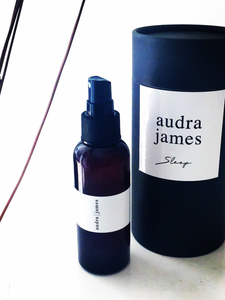 SLEEP MIST
Regular price $33.00 Sale
Our deeply relaxing Sleep Mist is designed to help you feel calm and relaxed.  Use as a pre-sleep treatment to help you unwind, switch off and get a more restful sleep. Sleep Mist can be used as a space or pillow mist as well as a relaxing body mist. 

Ingredients: Organic Lavender Water, Organic Chamomile Water, Frankincense Essential Oil, Polysorbate 20, Sodium Benzoate, Gluconolactone. 
For an instant relaxation ritual, spray a small amount of Sleep Mist onto the palms of hands, rub gently together and hold over your nose (eyes closed) inhaling the aroma deeply for a minimum of 7 breaths. This can be done prior to sleep or if you wake in the night

Sleep Mist cus available for mailing to Australia, New Zealand and the US. Please note that the packaging may differ slightly to the one shown. 
100ml bottle